Woodpeckers
Happy Holidays to you all. We hope you enjoy some special time with your families over the next two weeks and a new set of Home Learning activities will be published on 22nd April. Take care, stay safe and well.
Hello Wonderful Woodpeckers! We hope the home learning is going well - we are sure you are all doing a fabulous job, attached are some new activities for you to do this week. If you have any questions just send us a comment below.
Don't forget https://www.topmarks.co.uk/maths-games/hit-the-button for those quick fire maths games. You will be super speedy in no time!
Also, here are some brilliant ideas for activities you can try at home - which one will you try..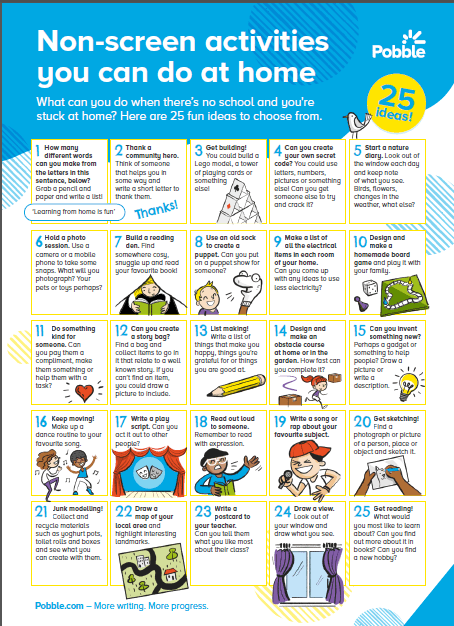 GENERAL RESOURCES:
Non-screen activities - from Pobble.pdf
WEEK 2:Activities for Week 2.docx
Maths.
Year 2 Spring Maths Activity Booklet.pdf
Writing.
Reading and spelling.
Year 2 Term 2A Week 5 Look, Say, Cover, Write, Check.pdf
Year 2 Term 2A Week 5 Presentation.ppt
Easter Themed Basket Craft.pdf
Year 2 Science Uses of Everyday Materials Learning from Home Activity Booklet.pdf
WEEK 1:
Interactive Clock template.pdf
Roar - Reading Comprehension High Ability.pdf
t-t-11128-pirate-themed-counting-in-3s-maze-activity-sheet_ver_2.pdf
T-T-695-Dinosaur-Role-Play-Masks_ver_2.pdf
Term 2B Look, Say, Cover, Write, Check.pdf
Comments (4)
Show Comments
Phoebe
(about a week ago)
I am okay how about you and on Monday l had a nose blead because my brother hedbutid me.I am better now but what about you
Charlene small
(about a week ago)
Having trouble loading the week 5 present station and the shapely lines.
Mrs M-S and Mrs Fielding
(about a week ago)
Morning! There seems to be a problem with 2 of the attachments on our Woodpeckers home learning - we are just trying to rectify this. For the time being, I have removed the handwriting document and we are trying to work out how to display the maths. Thankyou for being patient!
Mrs M-S and Mrs Fielding
(about a week ago)
Hello to you all, We thought we'd use the opportunity for us to stay connected and for you to ask any questions you may have about the home learning with this guestbook. Please feel free to comment, we'd love to hear from you. Parents/Carers - in the interests of children staying safe online please message with them to check you are happy. We will do our very best to respond - we are fast becoming impressively tech savvy but it's still a steep learning curve! Mrs M-S and Mrs Fielding.