If you need any information on this website translated, please contact us. - আপনার যদি এই ওয়েবসাইটের কোনো তথ্যের অনুবাদ প্রয়োজন হয়, আমাদের সাথে যোগাযোগ করুন। - Proszę pytać, jeśli chciałbys, aby coś zostało na tej stronie przetłumaczone. - Burada tercuman lazimsa, lutfen bize bildirin - Если вы хотели бы что-нибудь на этом сайте переводе, пожалуйста, свяжитесь с нами - Nếu bạn muốn chúng tôi dịch bất cứ điều gì trên trang web này, xin vui lòng liên hệ với chúng tôi.
19.11.2018
Last Monday's Scooter Skills training was very successful and many children were taught how to safely navigate the streets on two wheels!
It was absolutely fantastic to see nearly every family at the Consultation Event. We are so proud of the children at Manor Fields and it is lovely to have a dedicated opportunity in which to discuss each child's progress, attainment and well-being.
Thank you all for your superb and generous support of Children in Need on Friday. Children and staff looked delightfully spotty and once the pennies have been counted, we shall let you know how much money was raised.
Coming up:
On Monday, our governors will spend the morning observing how the children engage with their learning. As the governors are the critical friends of the our school, it is important that they have a contemporary picture of day-to-day life (and learning!) at Manor Fields

On Friday afternoon, our Owls will venture to South Wilts for an exciting Maths workshop

After school on Friday, Running Club will be adding to their Manor Fields Miles by completing as many laps as possible of the track at South Wilts. Do join us if you want to stretch your legs!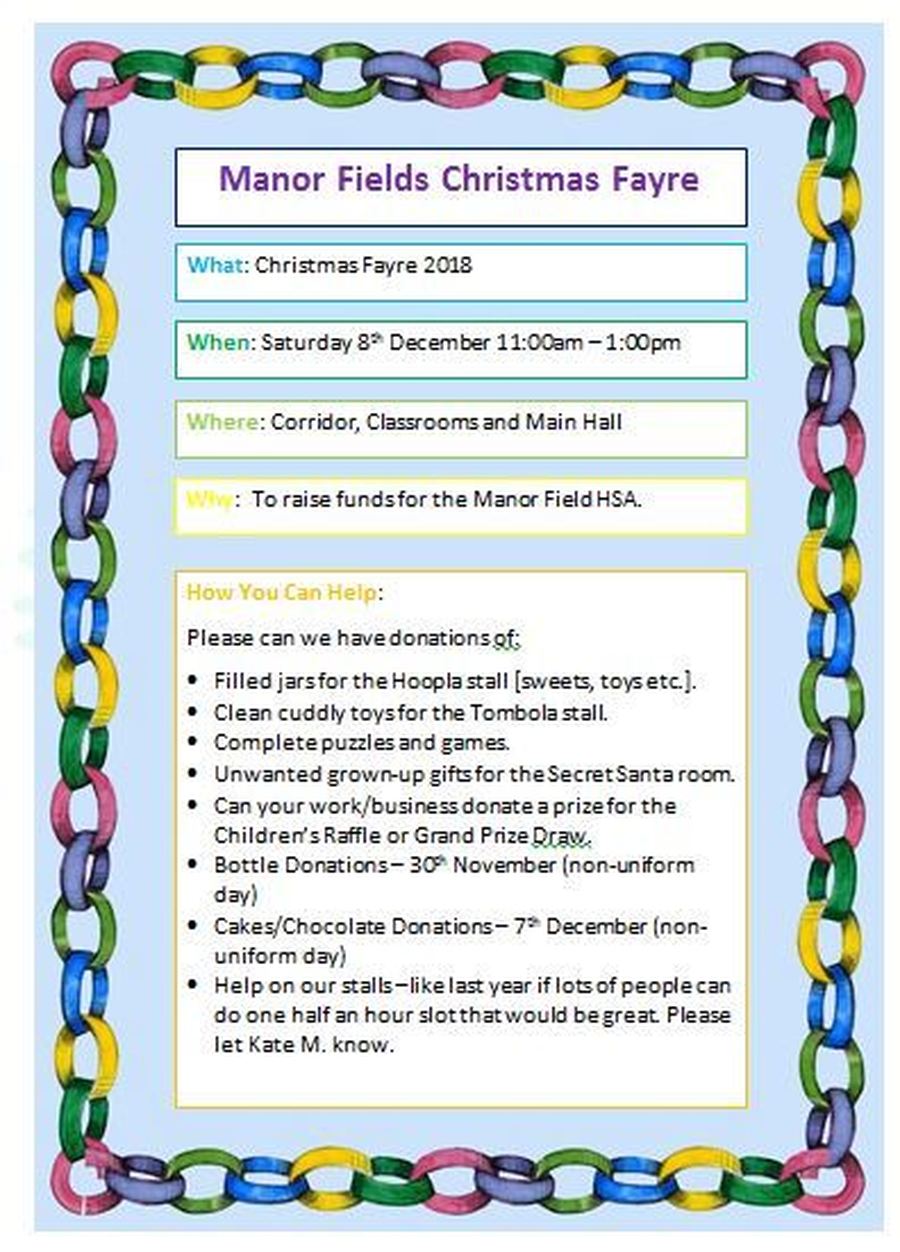 Manor Fields Data Autumn 2018
Please click here for the details of our school's performance data for 2018.
Please click here for a direct link to the online application for Free School Meals.
The NSPCC have launched a new whistleblowing campaign so please visit our safeguarding pages in the About Us section for more information.
Did you know that O2 offer a free "Parental Control" service to help families to protect their children while they're online? They can enable you to restrict children's web access via their mobile to a limited number of sites which are suitable for children.
For information on Wiltshire Local Offer click on link below:
Latest School Events
Christmas Making Day

30

Nov

2018

Look @ Learning - all families are invited in to look through your children's books

04

Dec

2018

9:00 am - 9:15 am

Bank Closes and Clubs End

07

Dec

2018

Infant Nativity Dress Rehearsal

07

Dec

2018

2:15 pm - 3:15 pm

HSA Christmas Fayre

08

Dec

2018

11:00 am - 1:00 pm