If you need any information on this website translated, please contact us. - আপনার যদি এই ওয়েবসাইটের কোনো তথ্যের অনুবাদ প্রয়োজন হয়, আমাদের সাথে যোগাযোগ করুন। - Proszę pytać, jeśli chciałbys, aby coś zostało na tej stronie przetłumaczone. - Burada tercuman lazimsa, lutfen bize bildirin - Если вы хотели бы что-нибудь на этом сайте переводе, пожалуйста, свяжитесь с нами - Nếu bạn muốn chúng tôi dịch bất cứ điều gì trên trang web này, xin vui lòng liên hệ với chúng tôi.
26.2.2018
Term 4 has got off to a great start! Over half of the families in Year 6 attended Mrs Griffiths' helpful SATs information session on Tuesday and the Book Fayre is very busy indeed.
We have been informed that we are over-subscribed for September 2018 and as a community, we can feel proud that other families would like their children to join our school.
Coming up:
On Tuesday @ 3:15, there will be a SATs information session for Woodpecker families

Thursday is World Book Day! Children, and adults, are invited to dress up as their favourite book characters; we are looking forward to a day spent luxuriating in good books

Thursday is also Governor Insight Day. Our superb governors will be spending the day in school to enure that your children are safe, happy and well-educated

.
Flu Vaccine - Message from the NHS 31.01.2018
In view of the increased cases of Flu this year, NHS England have taken the decision to extend the vaccination programme and make more vaccine available. Therefore there will be unexpected extended opportunities for your child to be vaccinated in community clinics; this is for those who have not already been vaccinated and are in the eligible cohort Year R, 1, 2, 3 or 4. This is regardless of whether you filled in a negative consent form in the first instance. If you would like to take up this opportunity please contact the immunisation team on: 0333 234 1125 to book into a community clinic. Please note that this will be offered in first come/first serve basis until vaccine has run out, therefore early contact is advised.
Simon Says - School Council Charity
We have received the letter below from Simon Says in recognition for the money raised by the School Council from the table top sales. Thank you for all who supported these events.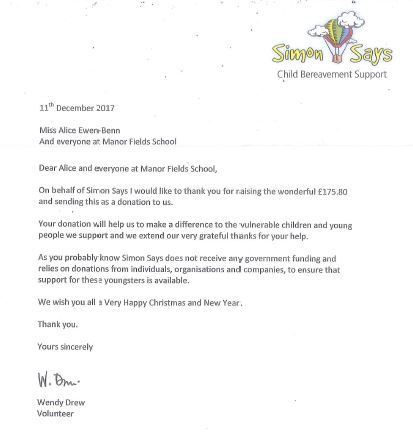 If you would like to pay for school dinners or trips online please ask at the office for an activation letter and login using this link - https://www.scopay.com/login.html
Please click here for a direct link to the online application for Free School Meals.
The NSPCC have launched a new whistleblowing campaign so please visit our safeguarding pages in the About Us section for more information.
Did you know that O2 offer a free "Parental Control" service to help families to protect their children while they're online? They can enable you to restrict children's web access via their mobile to a limited number of sites which are suitable for children.
For information on Wiltshire Local Offer click on link below: